8' Fantasy underwater world Inflatable Paddle Board | SUPZOOM
Sold out
Original price
$569.00
-
Original price
$569.00
Pre-Order: Shipping Starts in 15-20 days
The Supzoom 8' Kids inflatable paddle board is perfect for complete beginners.Its all-around shape is stable enough for beginners just getting their feet wet and much more maneuverable for smaller paddlers than a full-sized SUP. This board is perfect for younger children or those wanting to try their first SUP.
| | | | | | | |
| --- | --- | --- | --- | --- | --- | --- |
| SKU | Length | Width | Thick | Weight | Volume | Max load |
| CHD0007 | 244cm/8' | 71cm/28'' | 10cm/4'' | 10kg | 240L | 80KG |
The paddle board adopts the golden size of 8'x28"x4"; 244cmx71cmx10 cm. For kids, sufficient width provides very good balance and stability.The 15-degree upturn design of the bow and the length of 244cm ensure excellent rowing speed and provide users with a very good long-distance rowing experience.

The paddle board is made of high-strength and air-tight dwf material. The high rigidity and high pressure resistance provide a use effect comparable to that of a hard board. The material also has more than 10,000 times of flexural resistance, so that the inflatable pulp board has unparalleled portability.

Cool design, fashion item,Supzoom paddle board design is unique, and designers continue to create products with a sense of design around youth, fashion and individuality. Full-size printing provides unlimited possibilities for all individual, unique and trendy designs.We hope that the Supzoom paddle board can become a must-have item in your life that makes you fondle admiringly.
Accessories for supzoom paddle board include:
★Backpack:Large capacity that fits all components. The design includes extra padding and shoulder strap for portability purposes.
★Two-way hand pump:Easy to operate and efficient, this hand pump comes with an integrated pressure gauge to monitor the level of inflation.
★Adjustable paddlle:Three-stage paddle perfectly integrates the ergonomic. The length of the paddle can be adjusted according to the user's height and arm span. it is made of aluminum to reduce weight , which is more labor-saving and durable.
★Repair kit:Include PVC patches, valve spanner.Take good care of your sup.
★Ankel leash:Keeping you safe when attached to your ankle or calves.
★Waterproof bag:All-purpose water resistant bag. It protects your cell phone, keys, and any other valuable items from water damage.
★Slide in fin:The fin adopts a detachable and buckle type, which is toolless installation,easy to install. The uxiliary caudal fin provides better stability, allowing users to quickly turn while maintaining a straight line.
★Carry strap:Fix it on the D ring to solve the lifting and carrying of the paddle board, which is simpler and more labor-saving.
★Paddle hold device:With a minimalist design to facilitate user's easy use, always keep your oars in the safest and most reliable position, and prevent the oars from slipping into the water.
★Removable bungee:Installed in the bungee system,Provides enough storage space to stow your tools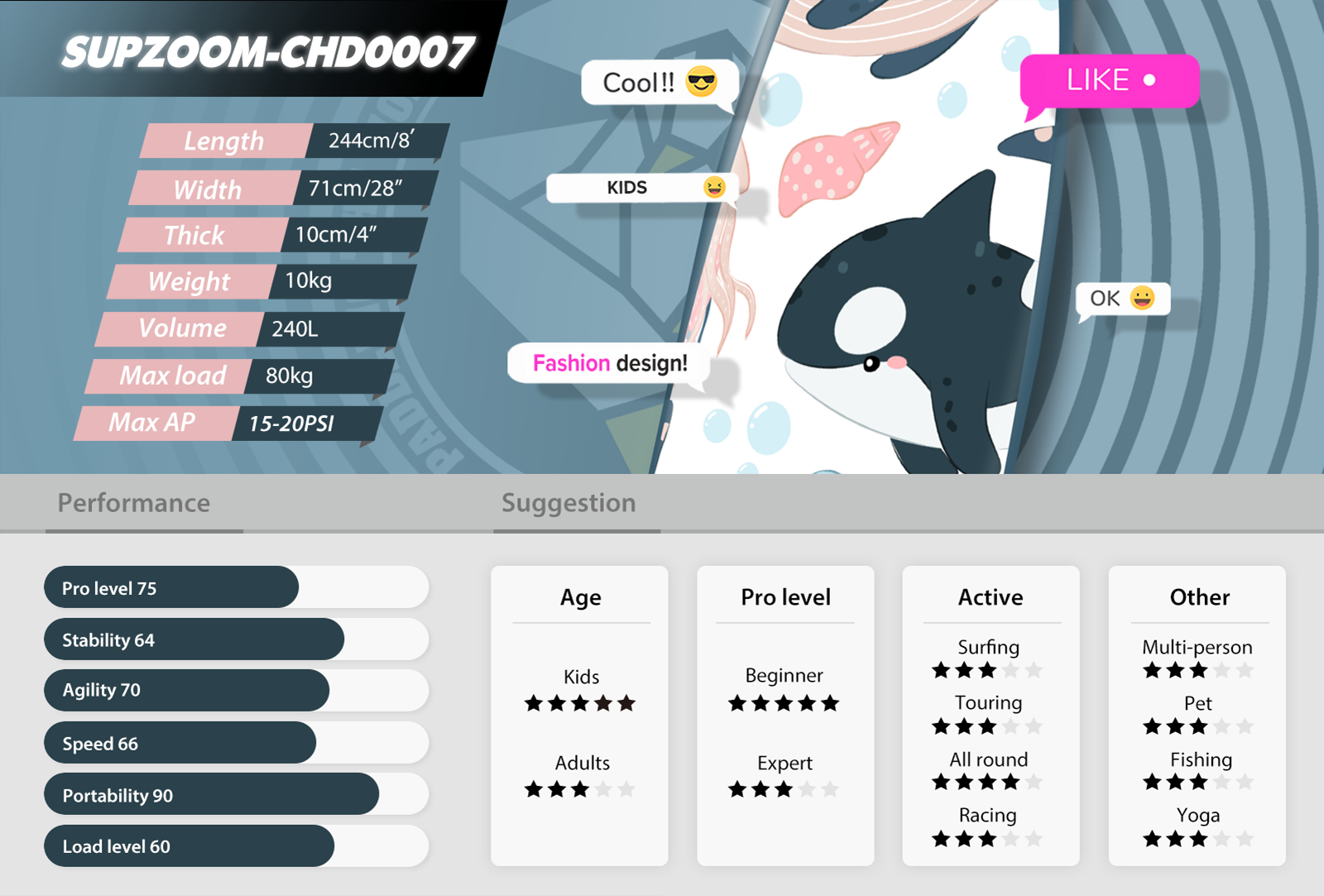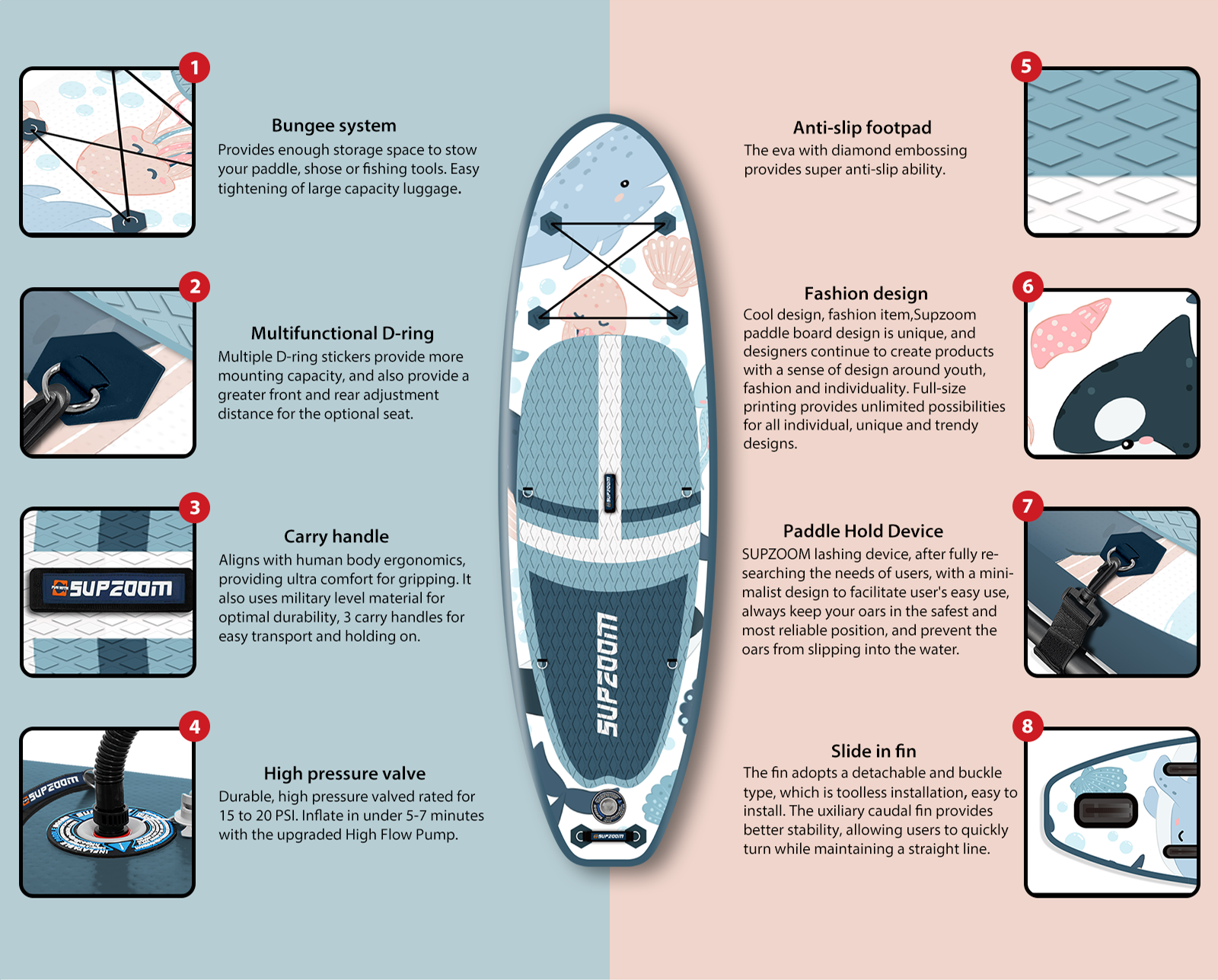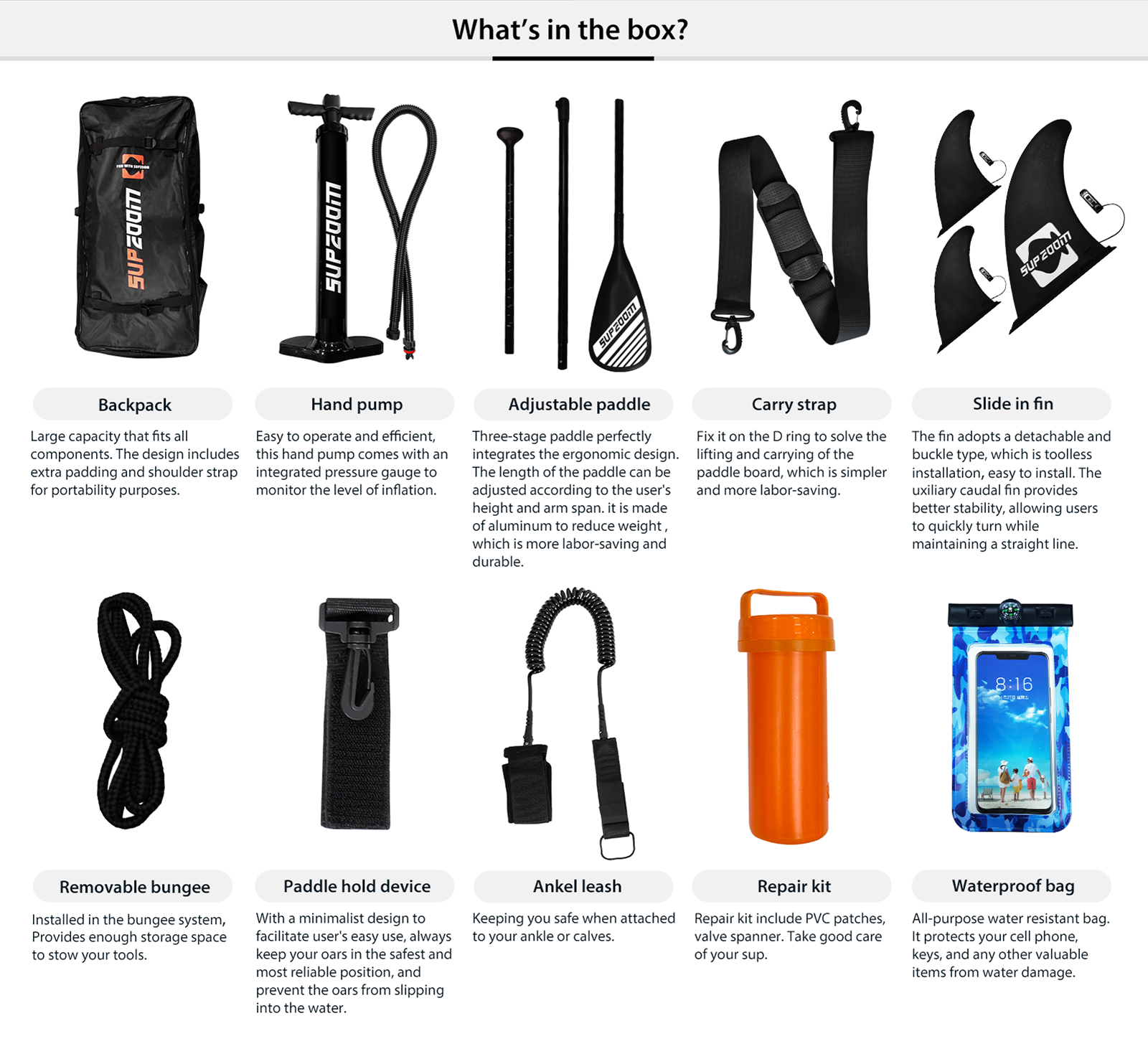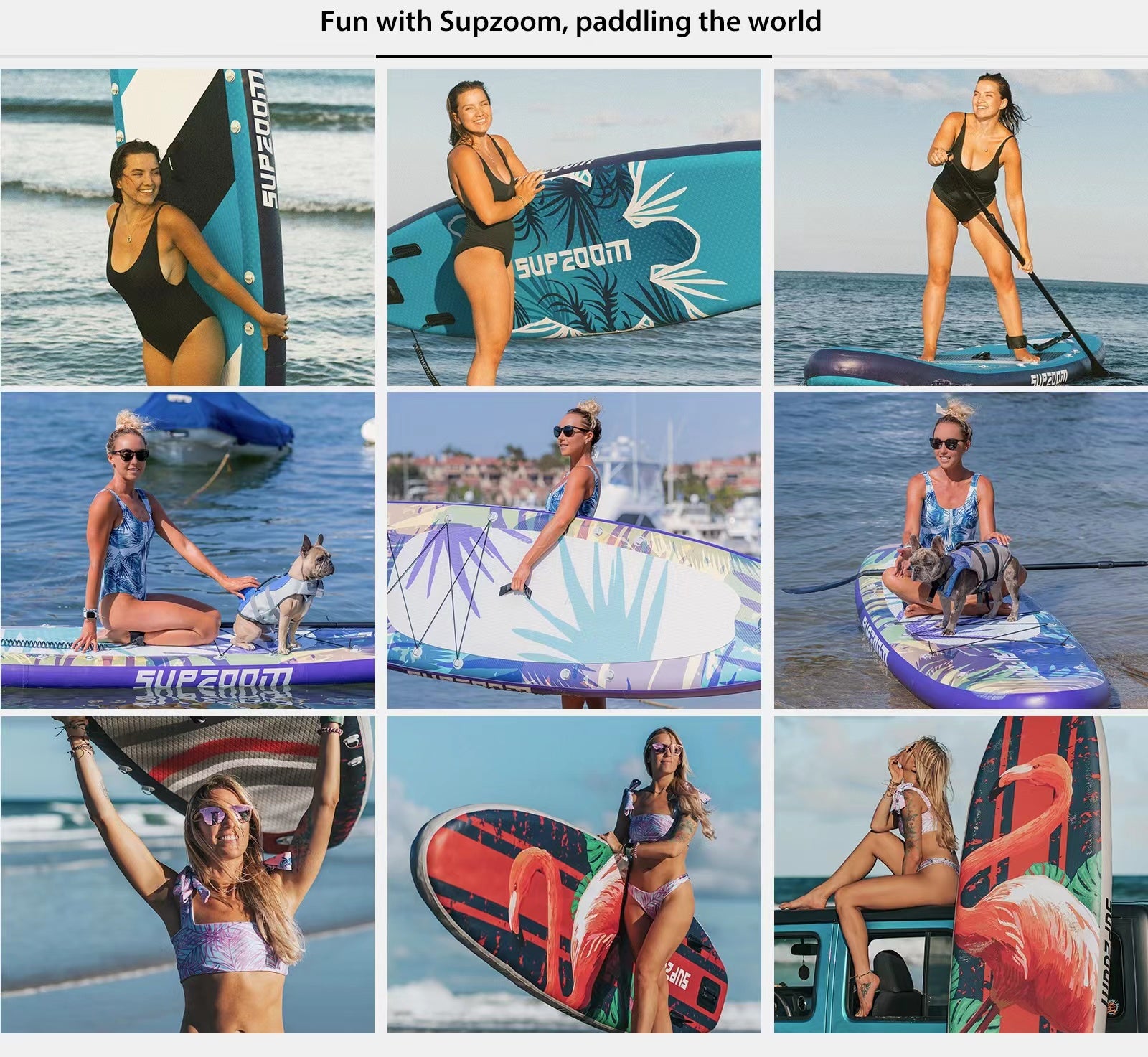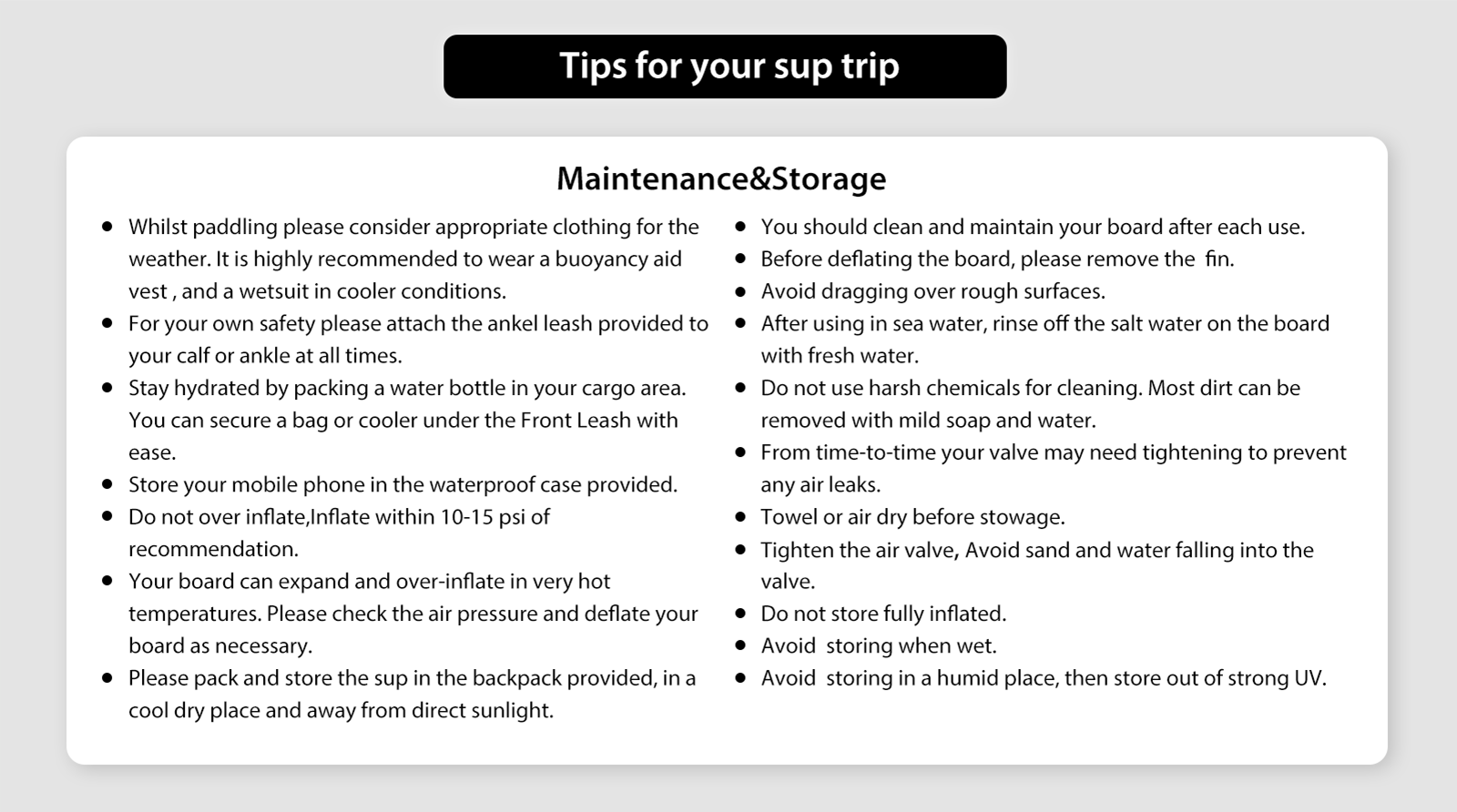 Delivery time
Use this text to share information about your product and policies with your customers.